On 17 December 2019, Ambassador Morakot Sriswasdi met with Ambassador Bettina Kirnbauer, Advisor for international Affairs of the Austrian Federal President. The objective of the meeting was to exchange views on bilateral and multilateral issues and discuss ways to further strengthen cooperation and relations between the two countries.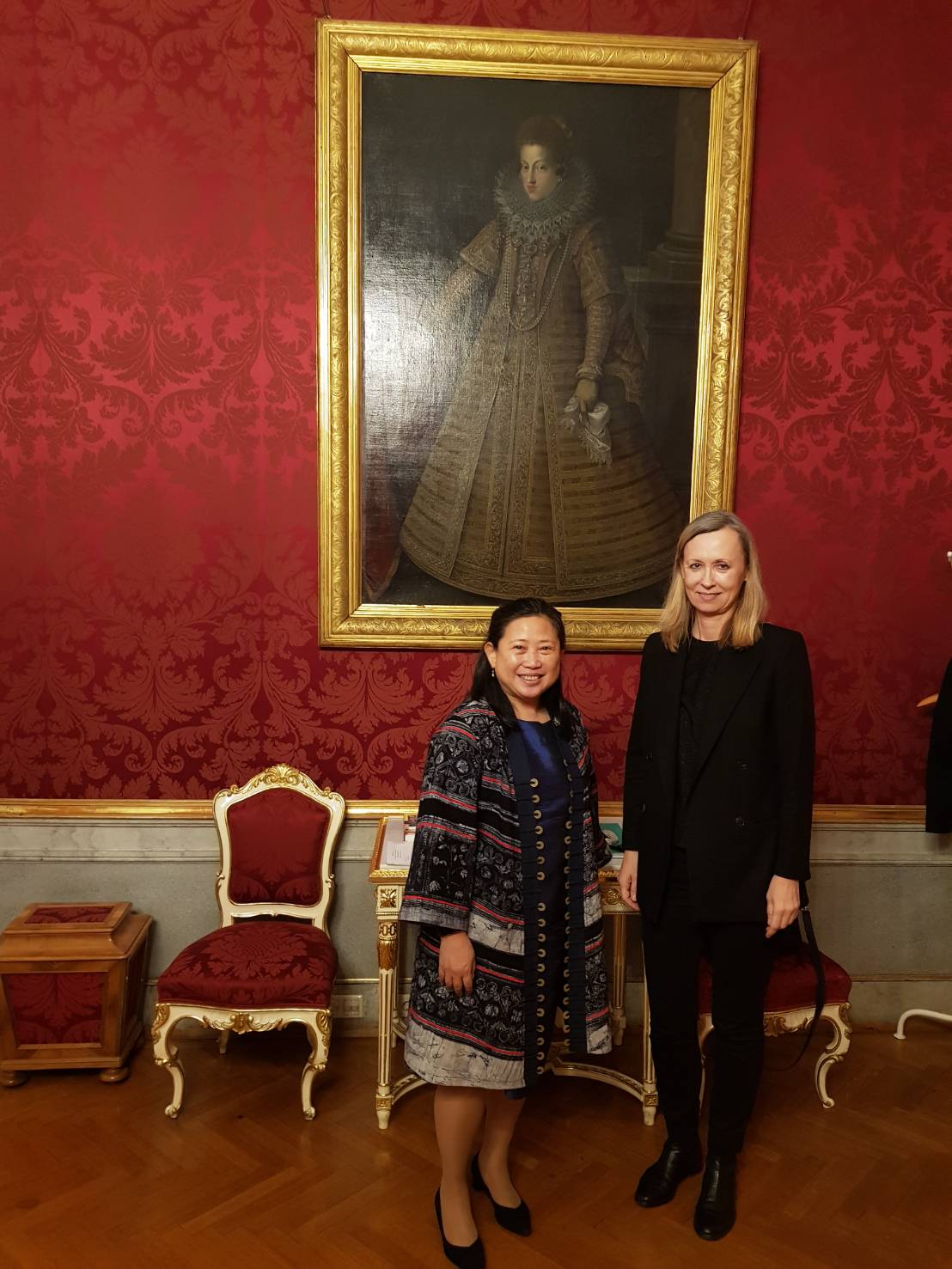 The Ambassador inquired on the status of the Austrian's government formation following the landslide victory of Mr. Sebastian Kurz, head of Austrian People's Party in the General Elections last September 2019. The Ambassador expressed her admiration of the Federal President's leadership during the political crisis before the elections. She also reaffirmed Thailand's willingness to work with the new Austrian government to enhance and strengthen ties and cooperation between the two countries.
The Ambassador informed Ambassador Kirnbauer that 2019 is a very special year for Austria and Thailand as both countries celebrate 150 years of friendship since the signing of the Treaty of Friendship, Commerce and Navigation in 1869. To celebrate this auspicious occasion, the Embassy had organized various activities throughout the year. One of the highlights was a commemorative concert performed by Princess Galyani Vadhana Institute of Music with University of Music and Performing Arts (mdw) at the Schloss Schonbrunn Theatre. The concert was graciously presided over by Her Royal Highness Princess Maha Chakri Sirindhorn. Another memorable project was the commemorative book titled "Von der Donau an den Chao Phraya: 150 Jahre Freundschaftliche Verbindungen zwischen Österreich und Thailand". Thailand is interested to learn more and explore future cooperation in sectors which Austria has strength in such as smart city, renewable energy, technology and innovation. As a token of our excellent bilateral relations, Ambassador Sriswasdi presented the commemorative book to Ambassador Kirnbauer.
Ambassador Kirnbauer had inquired Ambassador's views on multilateral issues. In this connection, they had extensive discussions on regional and global issues since Vienna is host to UN-related agencies and various International Organisations. Topics of discussions included the works of United Nation Office on Drugs and Crime – UNODC in drug prevention, an area which Thailand has constructive role in especially the areas of Alternative Development, cooperation under the framework of Organization for Security and Cooperation in Europe, cooperation on safe, secure and peaceful application of nuclear science and technology within IAEA framework.