On 17 December 2019, Ambassador Morakot Sriswasdi hosted dinner for Mr. Michael Dichand, Chief Executive Officer of Gussing Renewable Energy GmbH (GRE) and took the opportunity to discuss about the company's investment in Thailand as well as exchange views on renewable energy technology which Austria has strength in. The dinner was joined by representatives from Team Thailand Offices based in Vienna.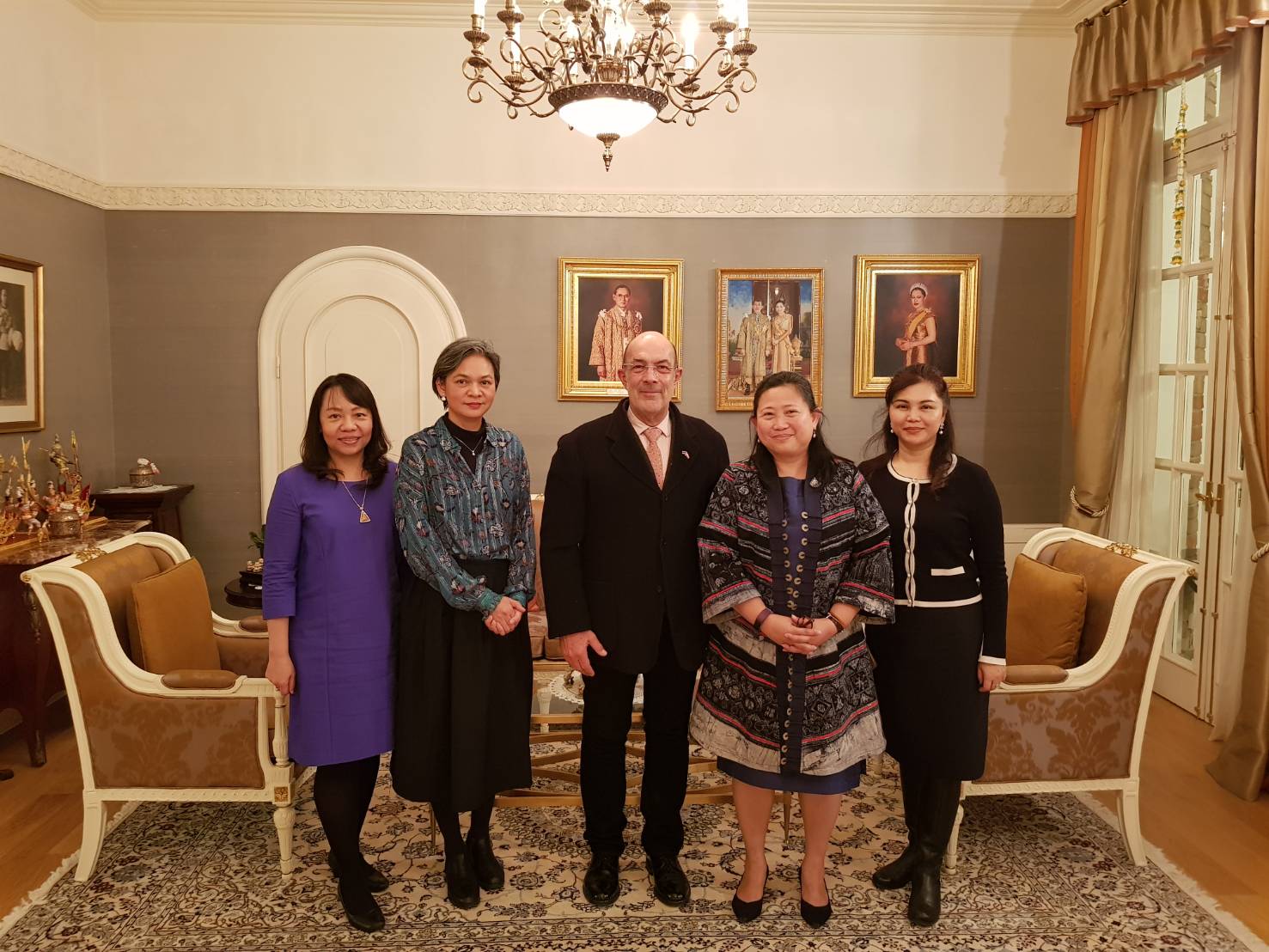 GRE, an Austrian company producing energy from renewable sources particularly biomass, is currently investing in Thailand. One of the main reasons why GRE chose Thailand was because Thailand, being an agricultural country, has a lot of excess agricultural residues and wastes, which can be used in biomass technology. GRE had collaborated with Siam Cement Group in constructing a 1-Megawatt biomass plant at Nong Bua, Nakhorn sawan province, using GRE's Dual Fluidized Bed Gasification technology (DFB). This process is a cleaner conversion of biomass to gas and electricity. For this project, GRE received support from Thailand Science Research and Innovation Institute (TSRI) and King Mongkut's Institute of Technology Ladkrabang for research which took eight years. The Nong Bua Plant is the first gasification plant in Asia. EGAT has expressed interest to buy the plant as a prototype of electricity power plant from alternative energy source.
Currently, GRE Company is researching and conducting a feasibility study for constructing a biorefinery plant in Chaiyaphum province. This biorefinery plant, which also uses GRE's DFB technology, will focus in producing liquid fuel. The plant will have a capacity output three times more than the Nong Bua plant. The local community is expected to play an important role in this project and will be an important stakeholder. In addition, GRE Company will start training programs in Austria for students from technical college and Khon Khaen University to learn GRE's technology as preparation for the plant's future operations.
The Ambassador expressed her views that Thailand can learn about clean technology from Austria, which is a sector that Austria has strength in. The city of Gussing, Burgenland, is an example whereby a town had achieved energy sufficiency and succeeded in reducing dependence on fossil fuel. Achieving energy sufficiency from renewable resources is in line with Thailand's energy policy which promotes sustainable development and increase access to energy resources at reasonable cost especially in rural areas.
GRE also views that sharing and providing correct information and knowledge on clean technology and biomass plants and impacts on the environment to the local community are important and should not be neglected. The Ambassador agreed that providing correct knowledge and better understanding with the local community is important. It would be useful that a seminar for all key stakeholders on biomass technology, which also includes GRE's DFB technology, that has no negative impact on the environment be organised for the local community in the future. The Embassy will continue to follow the developments of the GRE's investments in Thailand and can render support in liaising with relevant government agencies and interested private sectors.